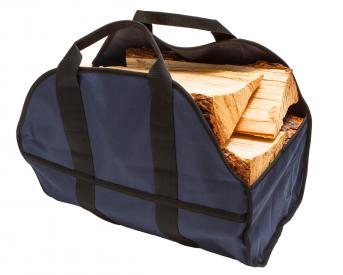 SC Lifestyle Firewood Carrier - Large Wood Bag for Carrying Logs From Outdoors - Use Log Tote For Wood Storage Next to Hearth or Wood Stove
The Premium Firewood Carrier by SC Lifestyle is a must have for anyone with a fireplace. It's large capacity makes it possible to carry huge amounts of wood into your house. The best thing? It is fully contained so you don't have to worry about debris and dirt getting all over your floor. There is no longer a need for a firewood stand and a carrier since this will do the job of both.
:: LARGE CAPACITY: The bag itself can likely fit as much wood as you can carry and keeps the mess contained. The bag is sturdy enough to be propped open for easy loading of your firewood.
:: CONTAINS DEBRIS: Fully enclosed so it keeps the debris, dirt, and wood chips inside the bag. This eliminates the need for a dedicated firewood holder in your home!
:: HEAVY DUTY: Made with durable canvas and heavy duty stitching, the bag is built to last. If it does fail, it comes with a warranty!
:: 1-YEAR WARRANTY: The bag is fully covered with a 1 year warranty. Any issues from normal wear and tear and the firewood carrier will be replaced for you!
:: 24" (Length) x 12" (Height) x 10" (Depth)
:: UPC 036007991539